Mini Individual Apple Crumble Pies
Now that it's the fall, I seem to have an abundance of apples from apple picking. One great way to use up those apples is to bake with them. I decided to look for a new way to make apple pie, and I found a great one in my Harry Potter Unofficial Cookbook. I found one for mini individual apple crumble pies. While I did use the recipe in the cookbook as a guide, I did improvise a tiny bit with the filling. I used four granny smith apples, instead of two granny smith & two gala apples. Also, I had a bit a trouble with my crust.. because I maybe doubled the butter from not reading properly and lack of sleep. I had to go in after I chilled in and continue to add butter and combine it in. Don't be like me, read the instructions carefully.
Items Used:
Disclaimer: This post contains affiliate links. I may earn a small commission at no additional cost to you. For more information please check out my sidebar.
Mini Individual Apple Crumble Pies
I started out by making the dough the night before I wanted to actually make the pies. This way the dough could chill overnight. The book said to use a food processor, but I think next time I'm just going to use my KitchenAid stand mixer with the dough hook. I started out by putting my dry ingredients in the food processor and pulsing three times to make sure they were properly combined. After that I added my cut up chilled butter, too much as I stated earlier, and pulsing that until combined. After I took the dough out I was supposed to add a little water to make it stick together, but it was already wet enough. The next day I had to add a ton of flour in small increments to get it to not be sticky.
I put the dough in the refrigerator overnight. The following day I started on the rest of my pies. I preheated the oven to 350, and sprayed the cupcake tin with spray to prevent sticking.
For my apple filling, I started by peeling, coring, and chopping my apples into smaller pieces. After the apples were ready, I melted butter in a pan, and then added the rest of the ingredients for the filling. I cooked that for about 10 minutes, stirring frequently, until the apples were soft.
While I was cooking the apples I took my dough out of the fridge. If you make the dough properly, you will just roll it out to fairly thing, and use a 4 inch cookie cutter to cut out your mini crusts. I filled up my crusts with the apple filling. To top off the pies I added the crumble topping, which was so easy to make. I added all the dry ingredients to a bowl, making sure they were evenly combined, and added the chilled butter. Using my fingers, I rubbed the chilled butter into the dry ingredients until it was a wet sand consistency.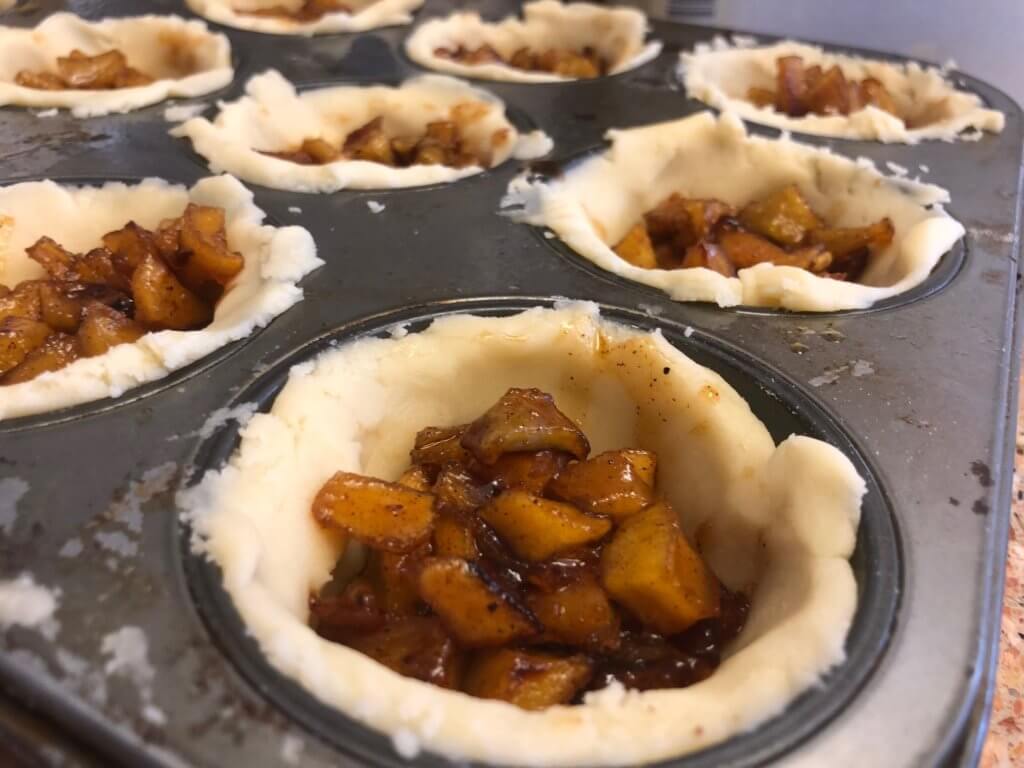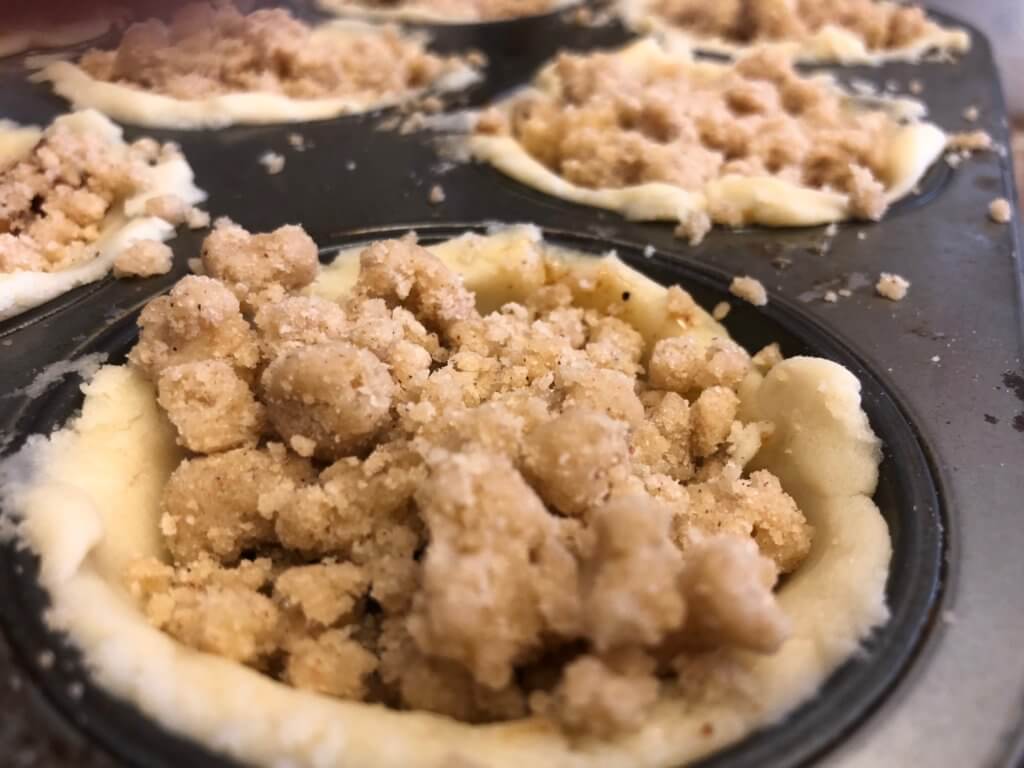 I put the pies in the oven for 4o minutes, and I let them cool in the pan. To get them out of the tins, I used a butter knife and they popped right out. I ate mine both plain and with vanilla ice cream. I definitely recommend eating these with ice cream or whipped cream.
What's your favorite pie recipe?
You can check out my other recipes here.
Mini Individual Apple Crumble Pies
Ingredients
Pie Crust

1 1/2 C All Purpose Flour
2 TBSP Sugar
1/2 tsp Salt
8 TBSP Butter, chilled and cut into pieces
4-6 TBSP cold water

Apple Filling

2 TBSP Butter
4 Granny Smith Apples, peeled cored and chopped
1/2 C Sugar
1/2 tsp ground cinnamon
1/4 tsp ground nutmeg
1/2 of a lemon, zest and juiced

Crumble Topping

1/2 C All Purpose Flour
1/4 C Brown Sugar
1/4 tsp ground cinnamon
4 TBSP butter, chilled and cut into pieces
Instructions
Pie Crust

Place flour, sugar, and salt in food processor, pulse to combine
Scatter pieces of butter over flour mixture, pulse until mixture is yellow and has no white powder remaining (about 15 pulses)
Put dough into large bowl, add 4 TBSP of water and toss with rubber spatula. Add more 1 TBSP at at time if too dry
Form dough into disk, chill for 2 hours up to 3 days

Apple Filling

Heat butter in skillet until melted
Add apples, sugar, cinnamon, nutmeg, lemon juice and zest; Stir frequently
Cook on medium-high heat until apples are soft.
Transfer to bowl to cool to room temperature.

Crumble

Whisk flour, brown sugar, and cinnamon together in a bowl
Scatter butter pieces on top and rub them into flour mixture with your finger until it resembles wet sand.

Assembly

Preheat oven to 350
Spray cupcake tins to prevent sticking
On generously flour surface roll dough thin, and using 4 inch cookie cutter cut out 12 circles
Place circles into cupcake tins
Place a heaping spoonful of apple filling into each pie
Top off with crumble
Bake for 40 minutes, rotating midway through, until juices are bubbling over and the tops are browned
Remove from oven, let cool
Use a knife to run around edges to loosens pies and life out
Enjoy alone or with ice cream
http://thevegasmom.com/mini-individual-apple-crumble-pies/