Products to Help Baby and Toddler Eczema
I hope 2020 is treating you all well so far. I took quite a long hiatus right in the middle of Blogmas. Long story short; I got a terrible tooth infection and then my grandpa moved here. After that, it has been hard to jump back into it.  A few things have happened during my hiatus. First, my grandpa finally moved here. I'm so happy! Second, in the beginning of January I launched my YouTube channel. This post was actually a YouTube video first; however, I believe this will be a great blog post as well! I am sharing my favorite products to help baby and toddler eczema. I feel like this is a topic I have quite a bit of experience in, because Brooklyn has eczema. Before I jump into the list of products just remember that you should always see a dermatologist if your child has eczema. Some of the products that we use now are prescription products, and they have made the biggest difference.
This post contains affiliate links. I may earn a commission at no additional cost to you.
Products to Help Baby and Toddler Eczema
Body Wash
This is still one of my favorite body washes. It's just not the one we are currently using. Honestly, once we run our current body wash, which will be mentioned on this list, I will be switching back to this one.
This was another body wash that I found was gentle enough on Brooklyn's skin.
This is what we are currently using. I still really like it; however, it's more money for something that works the same as the Aveeno in my opinion.
Lotion
This is the first lotion I used for Brooklyn, and I still use it for DJ. He doesn't have eczema though. This is definitely good for mild eczema, but Brooklyn's eczema is more on the moderate side.
This one is a nice and creamy body cream. I just repurchased this, because we ran out of her prescription body lotion. I needed something until we can get to the dermatologist, and I know this will be good for her skin.
This is another products I would repurchase when I run out Brooklyn's prescription lotion, because I know it is great for her skin. I usually just grab what I see first out of this and the Eucerin. My mother-in-law actually uses this as well for her skin.
I don't have any pictures, because this is a prescription; however, it has been a life-changer for Brooklyn's skin.
Shampoo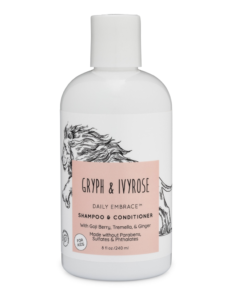 This is the only actual shampoo I have tried. It is made without paragons, sulfates, phthalates.Which is why I'm not worried about it irritating her skin.
Bath Products
Whenever Brooklyn's skin is extra dry and itchy I will throw one of the treatments in her bath. It doesn't take away her eczema, but it definitely help with her feeling itchy. It is really dry here in Las Vegas, and these are a staple in the winter time.
Sunscreen
Wearing sunscreen in a must when living in the dessert. This is one that I know won't irritate her skin, because it's made without PABA, phthalates, parabens, fragrances or nano particles. I prefer the spray sunscreens, but for her I need to make sure I use products that are better for her skin. It doesn't matter how much longer it might take to apply.
I hope if you have a child with eczema that you find some products that help out. I know it was such a game changer when I found the right products for Brooklyn. Again, I really advice that you take them to a dermatologist. That is what really helped the most, and if you're worried about steroids that is not all they prescribe.
Make sure you check out my corresponding YouTube video, and check out my winter essentials post or my must-haves when your child has a cold.
Does your child have eczema? What is your go-to lotion for your kids?