One of the things that I hate about not living in New York is pizza. Pizza in New York just tastes better. David & I have searched for delicious pizza all over Las Vegas. We found one or two places we do like. It's no surprise the owners of those two are from New York. Unfortunately, those two places are not the cheapest. David decided he was going to figure out to make our own pizza, and he even wrote a book. You can get it for free with Kindle Unlimited (first month free).  I wanted to share with you my favorite homemade NY style pizza recipe from his book. It's the Brooklyn style crust. Honestly, it's so easy and way cheaper than ordering pizza anywhere else. Even the sauce is extremely easy to make.
Homemade NY Style Pizza
Things I Used:
KitchenAid Stand Mixer
Double Sided Pizza Pan 
The first thing I do is get my stand mixer, and all my ingredients ready for the dough. This time I made the dough around eleven o'clock in the morning, and I made the pizza around six o'clock at night. This gave my dough around seven hours to rise. Normally, I only let it rise 45 minutes. I'm impatient, and usually want the pizza right away.
First things first is to let the warm water and yeast sit for five minutes. After that I add in the cold water, salt, and flour one cup at a time.
After that I mixed the dough with a dough hook in my Stand Mixer for around seven minutes. Once it's done I covered the bowl with plastic wrap, and let it sit until I want ready to use it. This is when it rises. Technically, I should have split the dough in two first. I never do. I'm lazy. I just split it after it's finished rising.
Once it was time for dinner, I started the sauce. I added crushed tomatoes, sugar, salt, garlic, and chopped basil in a sauce pan. I cooked that on medium heat until all the flavors melted together.
Once the sauce was done, I split the dough. I made one of the pizzas while David was at work.  It was not a pretty site.  Which is why I wait for David to get home usually to form the dough into a pizza shape.
Once David was home he assembled the pizza.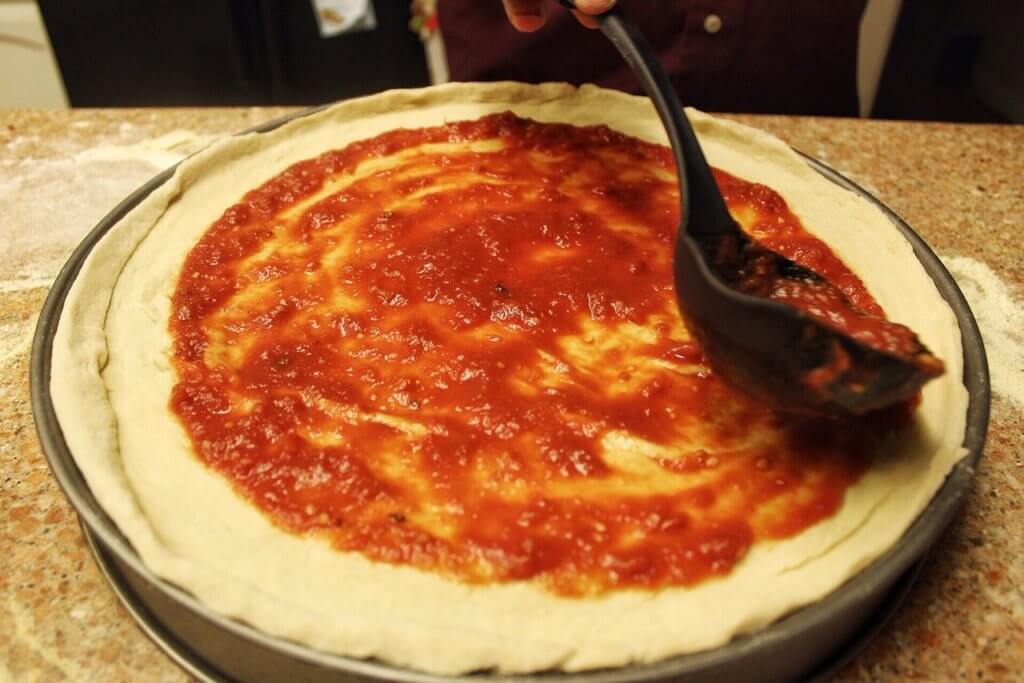 We baked the pizza in the oven for 12 minutes, and once it was done let it cool for a few minutes before we cut it.
You can check out my beer battered lobster tail recipe here.
Have you ever made pizza before?
What is your favorite type of pizza?

Ingredients
Dough

1 tsp Active Dry Yeast
1/4 C Warm Water
1 C Cold Water
1 tsp Salt
3 C Bread Flour

Sauce

1 Can Crushed Tomatoes
Salt, to taste
1 TBSP Garlic, minced
1 TBSP Sugar
Basil, chopped extra small (optional)

Toppings

Mozzarella Cheese
Pepperoni (optional)
Instructions
Dough

Sprinkle yeast over warm warm water in a large bowl, or stand mixer. Leave 5 minutes to proof.
Stir in salt and cold water.
Add flour in one cup at a time.
When dough is together enough to remove from bowl, knead on floured surface for about 10 minutes. If using a stand mixer put on medium for about 5-10 minutes. Until smooth
Divide into two. Coat in olive oil, and cover in a container for at least 45 minutes. The container should leave room for the dough to rise.

Sauce

On medium heat in a medium size pot, mix together all of the ingredient and bring to a simmer. Make sure to taste, and add what you feel is needed.

Assembly

Preheat oven to 450 F.
Flour surface.
Light dust dough with flour, and stretch until it is about 14 inches in diameter.
Place dough on pizza pan.
Add a thin layer of sauce.
Add Pepperoni, if using.
Top with mozzarella cheese.
Bake for 12 minutes.
Cool, cut, and enjoy!
http://thevegasmom.com/homemade-ny-style-pizza/