I'm back with another recipe! I haven't been posting many recipes recently, and that makes me a little sad. I'll be honest though, David made these. I have to give him all of the credit, because they were delicious! When I was younger my Nana would make stuffed peppers, but I wasn't a fan. I assume it's because it's food inside of a green pepper. What kid likes green peppers? Definitely not me. I love them now though. Stuffed Peppers are an entire meal inside of a hollowed green pepper. Whats not to love?
Stuffed Peppers
I started out by combining the ground beef and italian ground sausage, and cooking it through. Once that was finished I added sofrito, adobo, garlic, Goya Sazon packet, salt, and tomato paste,  tomato sauce, beef bouillon powder, sugar, vinegar, rice, tomatoes, and onion. I let that cook for about 10-15 minutes. While that's cooking, I hollowed out my green peppers. After that meat mixture was finished cooking, I let it cool a few minutes and added in the cheese. Stirring to combine it all.
I poked four holes into the bottom of the peppers. In addition, I added cooked tomato sauce into the bottom of a pan. Once the peppers were ready I scooped the meat and rice mixture into the hollowed out peppers.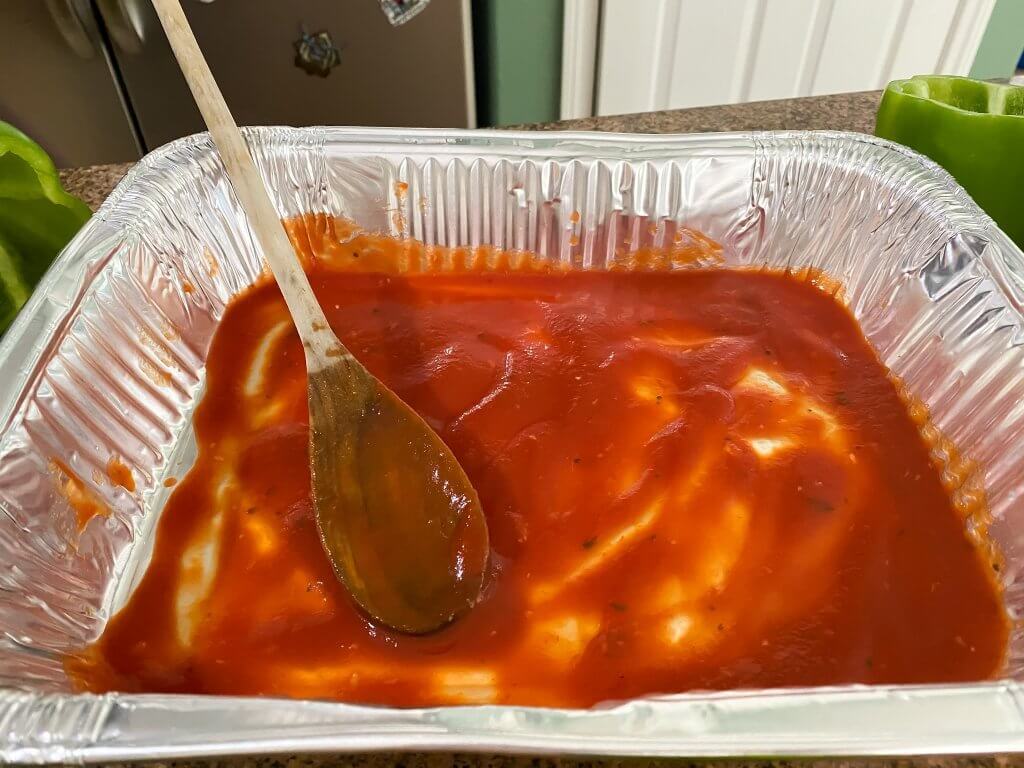 I let those bake for 40 minutes at 350 degrees. Once done I topped with cheese, and let bake for another 5 minutes. In addition, I seasoned and baked the tops on a sheet pan.
When all of it is done baking, serve with remaining sauce!
I hope you love these as much as my family did. DJ and Brooklyn even loved it. We just gave it to them without the green pepper. Don't forget to check out my brownie or churro recipes if you're looking for something to make for dessert. You can also check out my latest blog post while you're here.
Have you made stuffed peppers before?
If you try this recipe make sure to let me know in the comments!

Ingredients
Meat

1 lb ground beef
1 lb italian sausage
1 Goya Sazon packet
1 tbsp sofrito
3 garlic cloves, minced
Adobo, to taste
Salt, to taste

Peppers

7 bell peppers, tops cut off

Tomato sauce

2 15 ounce cans
1 tsp of sugar
1 tsp beef bouillon powder
2 garlic cloves, minced
Parsley, to taste

Additional Ingredients

2 tsp tomato paste
1 tsp beef bouillon powder
1/2 tsp vinegar
1/2 tsp sugar
1 C cooked rice
2 C Shredded cheese, separated
Instructions
Preheat oven to 350* F
Cut the top off and hollow out of the bell peppers. Poke 4 holes into the bottom.
Combine ground beef and italian sausage. Season with adobo, salt, goya sazon, sofrito, and garlic. Cook in a pan until cooked through.
While cooking meat, combine tomato sauce, sugar, parsley, beef bouillon powder, and minced garlic. Bring to a simmer for 5 minutes.
Once meat is cooked through, add half of the tomato sauce, tomato paste, onion, tomatoes, rice, powdered bouillon, sugar, and vinegar. Simmer for 10-15 minutes. Let cool for a couple of minutes. Add in 1 cup of cheese and mix to combine.
Add almost the entire other half of tomato sauce, reserve some for topping the peppers once they're done, to the bottom of your pan.
Fill the bell peppers with your meat mixture, and place into pan.
Bake for 40 minutes.
Top the stuffed peppers with 1 cup of cheese.
Season and bake tops on a sheet pan.
Place both the stuffed peppers and tops into the oven, and bake for 5 minutes, until cheese melts.
Serve with extra sauce, and enjoy!
http://thevegasmom.com/stuffed-peppers/