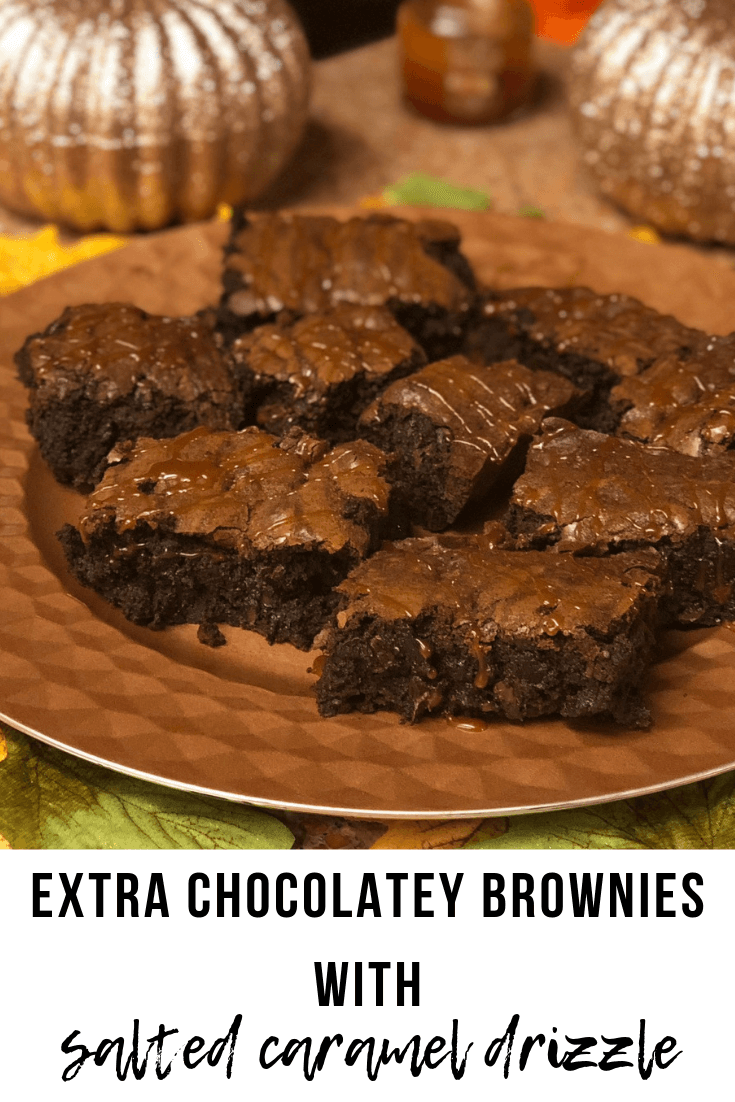 Extra Chocolatey Brownies with Salted Caramel Drizzle
Now that fall has arrived it's time my baking hits high gear. I was really wanting to making brownies, because for some reason this is the hardest thing for me to master still. However, I wanted to incorporate a little bit of fall flavor into my brownies. Which is how I came up with brownies with salted caramel drizzle.
Disclaimer: This post contains affiliate links. I may earn a small commission at no additional cost to you. For more information please check out my sidebar.
Items I used:
Rubber Spatula (Mine are this brand, I just can't find the exact ones)
Brownies
The first thing I did was pre-heat my oven. After that I melted butter, and added it to my KitchenAid with sugar. Once those were combined, I added cocoa powder.
I followed that up by adding the rest of the ingredients (eggs, coffee, baking powder, vanilla), minus the flour. One ingredient I added that the original recipe didn't have was brewed coffee. I believe that the coffee bring out more of a chocolatey flavor. Once that is all combined, I slowly added the flour a little at a time to get an even and smooth batter.
I removed the bowl from the KitchenAid to fold in the chocolate chips, because I don't want to over mix the batter. Once  the chips were evenly distributed throughout the batter I pour it into my pan. I don't have any good baking dishes for brownies, and I hate doing the dishes, so I used an aluminum pan and it worked great.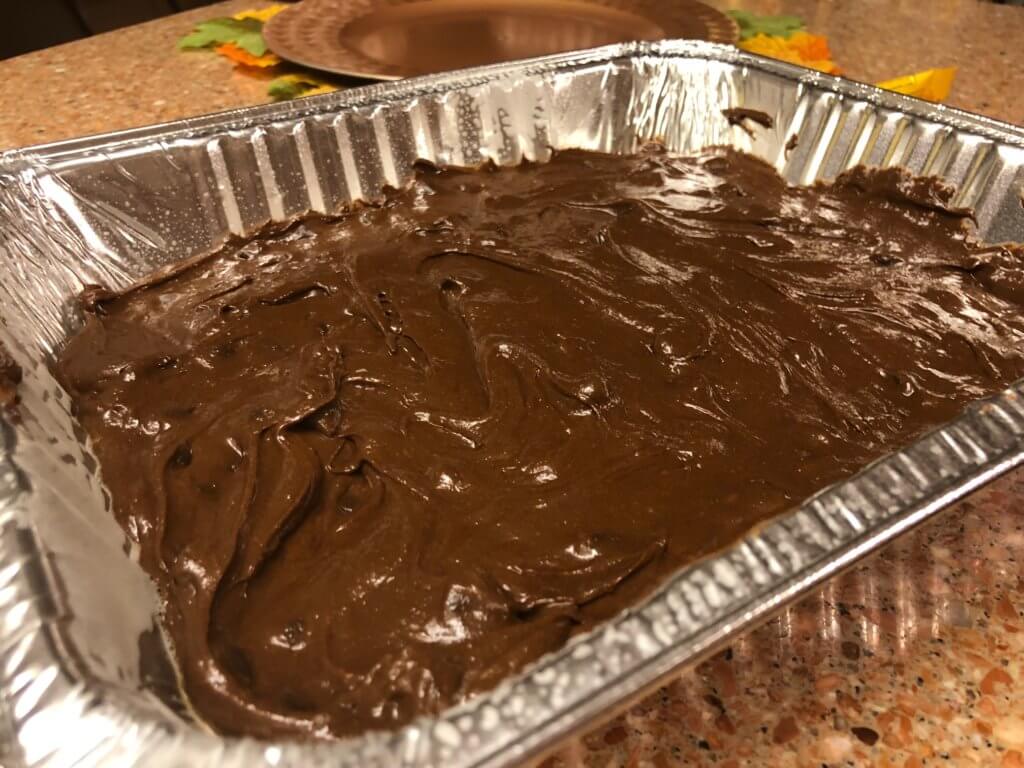 I put those in the oven for around 60 minutes. Which is way longer than I thought it would be. The original recipe said 30 minutes, but I think that all the extra chocolate chips might have made it take longer. Plus, every oven is different.
Salted Caramel
While that was baking in the oven I made the salted caramel. Honestly, the entire process is fairly quick paced so I completely forgot to snap more than one picture. I combined the sugar and water and let the caramelize for about 10 minutes. While that was caramelizing I warmed the cream, and whisked it into the caramel. I removed the mixture off of the heat, and added the butter and salt. Once that cooled a bit, I transferred it into a squeeze bottle. I wanted the caramel to look like it was drizzled on, and this definitely gave me my desired look.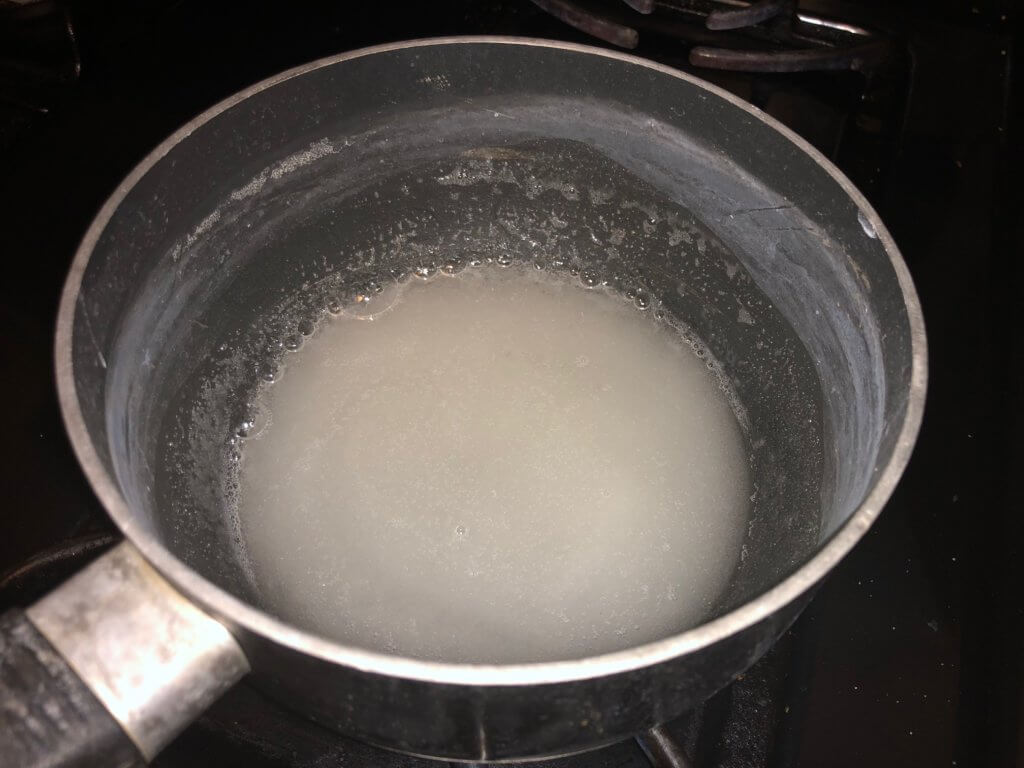 Final Result
Once the brownies were done I let them cool for about 10 minutes. Honestly, this is very important. When I tried to cut them right out of the oven it was a mess. After I cut them up and transferred them to a plate, I drizzled on the salted caramel. I don't think there is too much when it comes to adding the salted caramel. These brownies are very chocolatey, which I love, but I needed a glass of water afterwards. The salted caramel definitely helps bring another dimension of flavor to these brownies.
Let me know if you try these out, and you can check out my other recipes here.
What is your go to brownie recipe?
Extra Chocolatey Brownies with Salted Caramel Drizzle
Ingredients
Brownies:

1 C Butter
2 1/2 C Sugar
4 Eggs
1 1/2 C Cocoa Powder
1 tsp Salt
1 TBSP Vanilla
1 tsp Baking Powder
1 1/2 C Flour
1 TBSP Brewed Coffee
1 Bag of Semi Sweet Chips

Salted Caramel Drizzle:

1 C Sugar
1/2 C Cold Water
1/2 C Heavy Cream
2 TBS Unsalted Butter
3/4 tsp Kosher Salt
Instructions
Brownies:

Preheat oven to 350
Melt butter, mix with sugar in mixer on low until combined
Add cocoa powder and combine
Add eggs, coffee, salt, baking powder, and vanilla; combine completely
Slowly add flour while mixing on low until all is fully incorporated.
Fold in chocolate chips
Bake for 60 minutes
Let brownies cool before cutting into them

Salted Caramel:

Combine sugar and water in a sauce pan on medium-high heat
Cook for around 10 minutes, until dark amber color
Warm cream in a seperate saucepan while waiting for sugar to caramelize
Whisk in warmed cream slowly to the caramel, continue simmering until smooth
Remove from heat, mix in butter and salt.
Serve Warm
http://thevegasmom.com/extra-chocolatey-brownies-with-salted-caramel-drizzle/