One of my favorite sweet foods is Churros. I always thought they would be hard to make. This led me to only ever eating them at a fair or Del Taco. The other day I really wanted some, and I really didn't want to have to leave my house to get them. I decided that it was time I learned how to make churros. The best part is that it was actually quite simple to make. However, I did run into an issue. I didn't have a piping bag or a star tip. Luckily, I was able to use a large ziplock bag, but no matter how many times I tried to cut the tip, it wouldn't become a star. I decided after some trial and error to make churro bites instead. This way it would cook more evenly.
Another thing I was not prepared for how much patience I needed to have. Frying food in a pan takes a lot of patience to make sure it cooked all the way through. I have patience when it comes to a lot of things, but waiting for food to cook is not one of them. However, I knew if I wanted the churro bites I would have to wait. The best part is how simple the dough is to make. You just need to make sure you move quickly while make it.
Items Needed:
Ziploc Bag or Piping Bag
Star Tip
Frying Pan
Medium Sized Pot
Churro Bites
I started out by boiling water, sugar, and butter together in a medium sized pot. Once the water started to boil I added the flour in quickly. I let that sit for ten minutes to make sure the egg wouldn't scramble once it was added in. After ten minutes I quickly added in the eggs. It takes a bit for the dough to come together, so don't get discouraged.
While the dough is cooling for the egg I heat up oil in a frying pan. If I had an actual fryer I would probably use that. I might even try this next time with my air fryer. If I do I will make another recipe for you!
Once the oil is hot enough, I test this by adding a tiny piece of dough, I put my dough into the ziploc bag. I start piping bite size pieces into the oil, and wait until they are golden brown. I flip the churro bites once. Make sure you check the inside. The inside is gooey when not cooked enough. You don't want that. Once finished I get rid of the excess oil on a paper towel, and I roll them in a mixture of cinnamon and sugar. They are best served warm. I love eating them with the salted caramel I make for my brownies with salted caramel drizzle.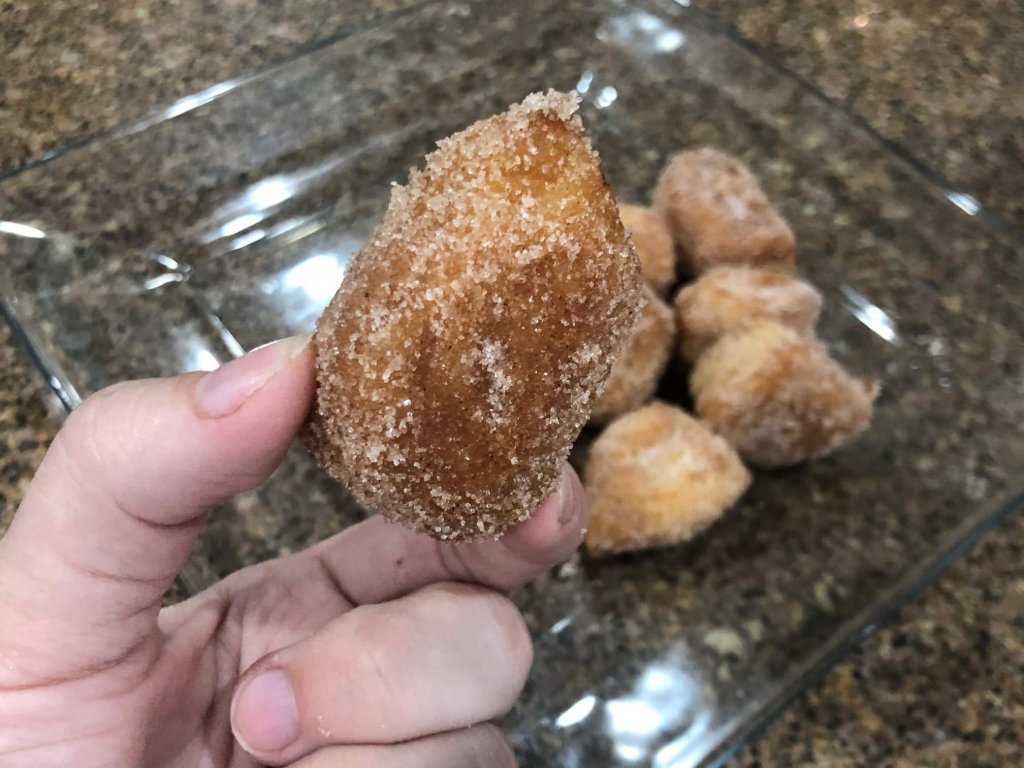 Do you like churros? Do you have your own recipe?

Ingredients
2/3 c Flour
2 tbsp Butter
1 c Water
3 tsp Sugar
1 Egg
Oil - for frying
Cinnamon - for coating
Sugar - for coating
Instructions
Bring the water, butter, and sugar to a boil.
Add flour, mix vigorusly until completely blended together
Remove from heat - let cool around 10 minutes
Add egg, mix as quickly as possible to prevent the egg from scrambling. It will take a bit before the dough comes together
Heat oil in a frying pan on medium heat
Fill a piping bag (with a star tip) with the dough (I use small batches at a time)
Pipe dough into oil and cut to desired size - I used kitchen scissors, but you can also use a fork
They are ready when they are a nice golden brown color
Remove excess oil with a paper towel
Roll in cinnamon sugar mixture while still warm
Enjoy!
http://thevegasmom.com/churro-bites/