Tips For Staying On The Las Vegas Strip With Young Children
Living in Las Vegas with two toddlers has given me a lot of first hand experience with staying at hotels on the Las Vegas Strip with young children. My family loves to have little staycations, and we tend to get a lot of comp nights on the Strip. Also, when my Mom comes into town we tend to spend most of our time on the Strip. We went from going without kids, to going with one baby, to now going with two toddlers. I have found that while it can be a bit more of a hassle at times, it's actually pretty easy to have a good time and have things go quite smoothly. I compiled a list of my tips for staying on the Las Vegas strip with young children for you.
Tips for staying on the Las Vegas Strip with young children
Rent a car:
It might not seem like you will need a car, but there is a lot of walking if you want to go anywhere. If you don't rent a car then I'd get monorail passes for the family.
Leave the strip for essentials:
A small bottle of water at any hotel on the Strip is a minimum on $3. The only place I've seen where its less expensive is at the Miracle Mile Mall, which is attached to Planet Hollywood. You would have to go into the ABC store, and even then I'd highly recommend leaving for water. Stock up on a few gallons of water, these off the strip can run from 75 cents to 1 dollar each. Also, buy your juice, milk, and snacks off of the strip.
Get a refrigerator:
I know it can make the cost of your trip go up, but it's needed. If you have any formula, pumped  breast milk, or medicine that needs to be kept cold, you can get a refrigerator free of charge at most hotels.
Bring your own pack & play:
This one can be a bit harder; however, if you have two children who need a crib, you will have to bring your own. Every hotel that I have been to will only bring one pack & play/ crib. I was told it has something to do with it being a hazard. Personally, I haven't had an issues with bring my own, because I live here. I did find a site where you can rent baby & toddler equipment. I've never used it before, but it's called Mommy Rents.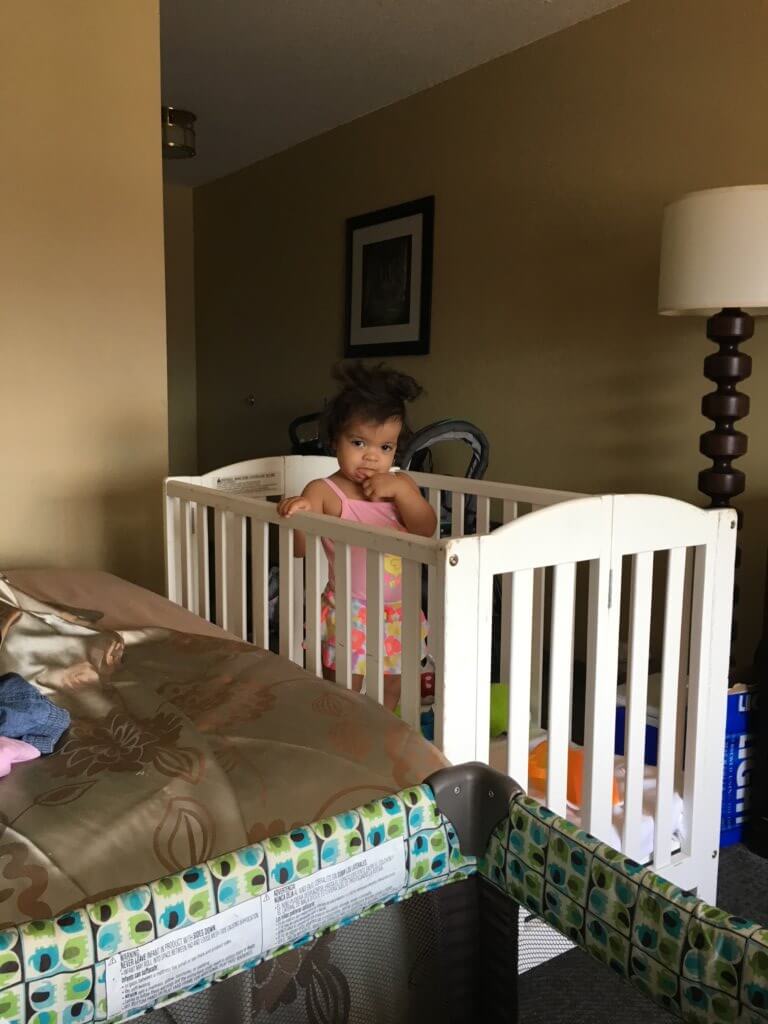 Don't come during the summer months:
The weather here will reach 100 F starting in June. It starts to finally cool down under the 100's in September. I'd highly recommend trying to come in March, April, or October. I know it can be hard to avoid the summer months if your children are in school. If you do have to come during the summer months make sure to bring sunscreen, and drink A LOT of water.
Check if a restaurant has a kid menu beforehand:
For the first time since bringing my little ones to the Strip, I found out a place didn't have a kid's menu. Guy Fieri's restaurant at The Linq is one of our favorites for brunch, but we didn't know they didn't have a kid's menu. We never even thought to check. The last time we brought my littles, Brooklyn was too young for food & David and I shared our food with DJ. This time they both love to eat a lot, especially Brooklyn, but alas they had no kid's menu. They told us they could modify certain foods for the kids, so we ordered the burger, and it was huge.. and $20. Each of their juices was $4.
Buca Di Bepo is a great family friendly place. There is a few on the Strip, a kid's mac & cheese was more than enough for both of my littles, and their kid's menu was one they could color on. Win win in my eyes.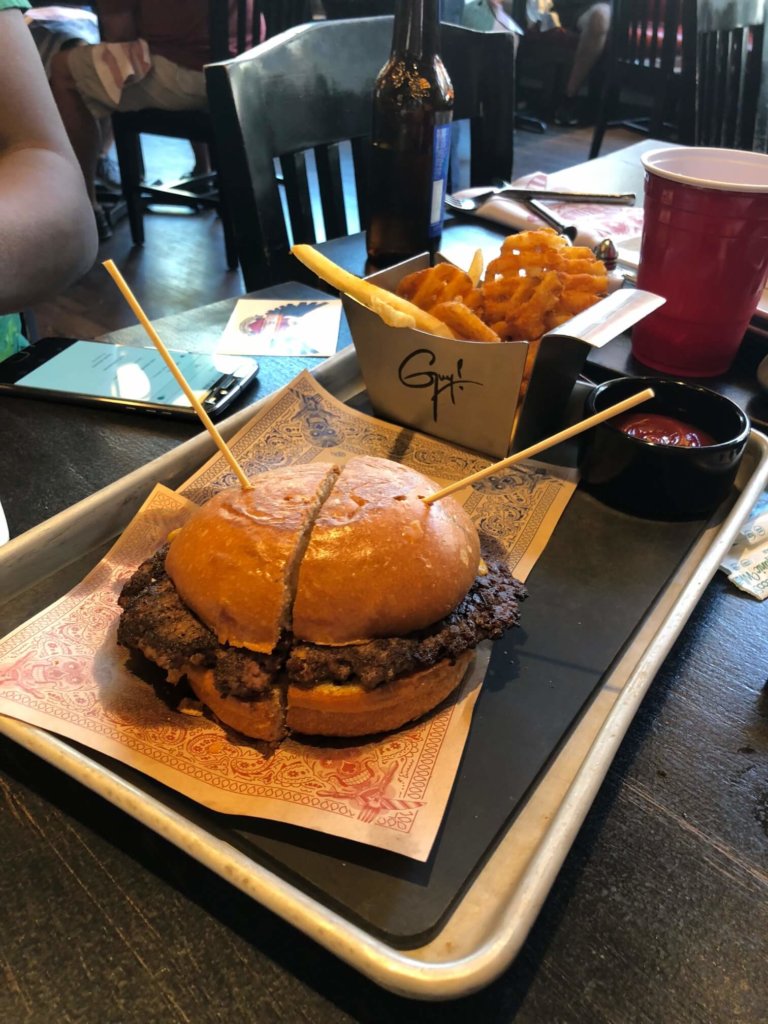 Don't stress:
I know vacations with young children can be stressful. Especially ones where you need to fly on an airplane to get there. Try to relax and have fun while you're here. There is a lot to do with children. You can check out a lot of those places on my blog. You can check out Las Vegas Strip specific places here.
Have you ever been to Las Vegas before? Would you ever bring you kids?