Top 3 Must Have Items I Use for Going in the Pool with Toddlers
One thing everyone loves about the summer is going to the pool. The great thing about our new house is that we have a big pool. However, I was definitely not prepared. Every summer since becoming a Mom we have only used a baby pool. That was completely different from having an actual pool. There are three items that I believe are must haves when going in the pool with toddlers.
Disclaimer: This post contains affiliate links. I may earn a small commission at no additional cost to you. For more information please check out my sidebar.
Top 3 Must Have Items I Use for Going in the Pool with Toddlers
This is the best thing I have ever learned about. Anytime DJ is even just standing near the pool he has this one. I am about to buy one for Brooklyn, because she has officially grown out of my second must have item. The Puddle Jumper Life Jacket we have is for children 30-50 pounds. It is US Coast Guard approved. They have ones for under 30 pounds, and for 50-90 pounds. I love that they come in all different designs.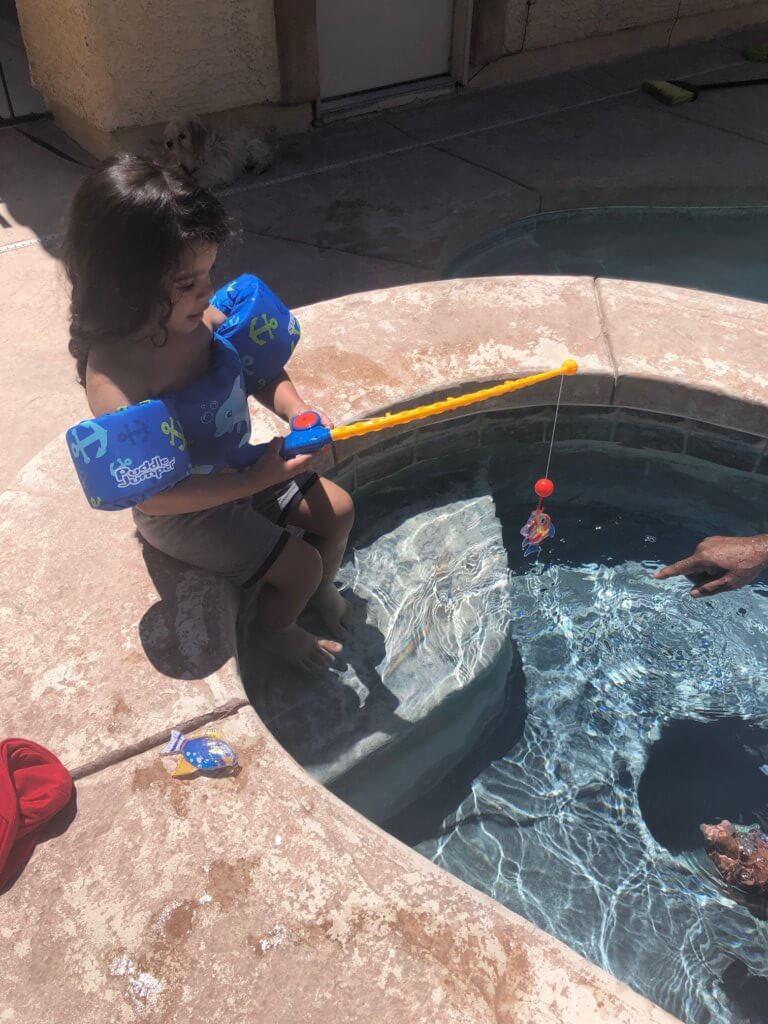 This is what we first put Brooklyn in when we started using the new pool. I can't find the exact one we bought, because I didn't get it on Amazon. They both do the same thing though. This was great at first. It would still be great if she was smaller, but she wants to swim around. If you have a toddler between one and two this will work great.
I know this one is probably very self explanatory; however, I find that the spray sunscreen it much easier to reapply after being in the pool for an hour. The sun here in Las Vegas is brutal, and I don't want to take any risks. Also, neither of my little ones want to wait to get dry for me to then rub in traditional sunscreen. This way I can pat dry them quickly, and then spray them all over. It dries in a minute, and then they can get back to pool time fun.
I hope you find my short list helpful. You can check out things to do here in Las Vegas for free with kids here.
Are there any must haves for the pool that I left out? What are your must haves?