Happy day 14 of Blogmas!
This week I made Shepard's pie for my family. They loved it. Honestly while it was delicious, I definitely made a few mistakes. I still wanted to share this recipe with all of you though. I used ground beef, which technically makes this more of a cottage pie; however, people use the term shepard's pie for both ground beef and lamb. Truthfully, I love lamb. I would have used it if everyone in the house liked lamb. That isn't the case though.
This post contains affiliate links. I may earn a small commission off of your purchase at no additional cost to you.
Shepard's Pie
Meat
To start out I preheated my oven to 350 F. I seasoned my meat a little more than what the recipe called for. I used salt, Adobo, garlic powder, and the smallest amount of sofrito, and then I added it to my pan and cooked it. After it was done I drained the fat, and put the meat into a bowl. I wiped the pan down, and added my onions. The onion cooked until they were golden, and then I added in my garlic. I cooked those for a few minutes and added my meat back in. Once those were well combined, I sprinkled the meat with the flour. Once I stirred it all together, I added in the chicken stock. Making sure to constantly stir as I added it. After that I added in my tomato paste, carrots, and a little more salt. I covered the meat mixture, and let that cook until the carrots were soft and the mixture thickened and bubbled.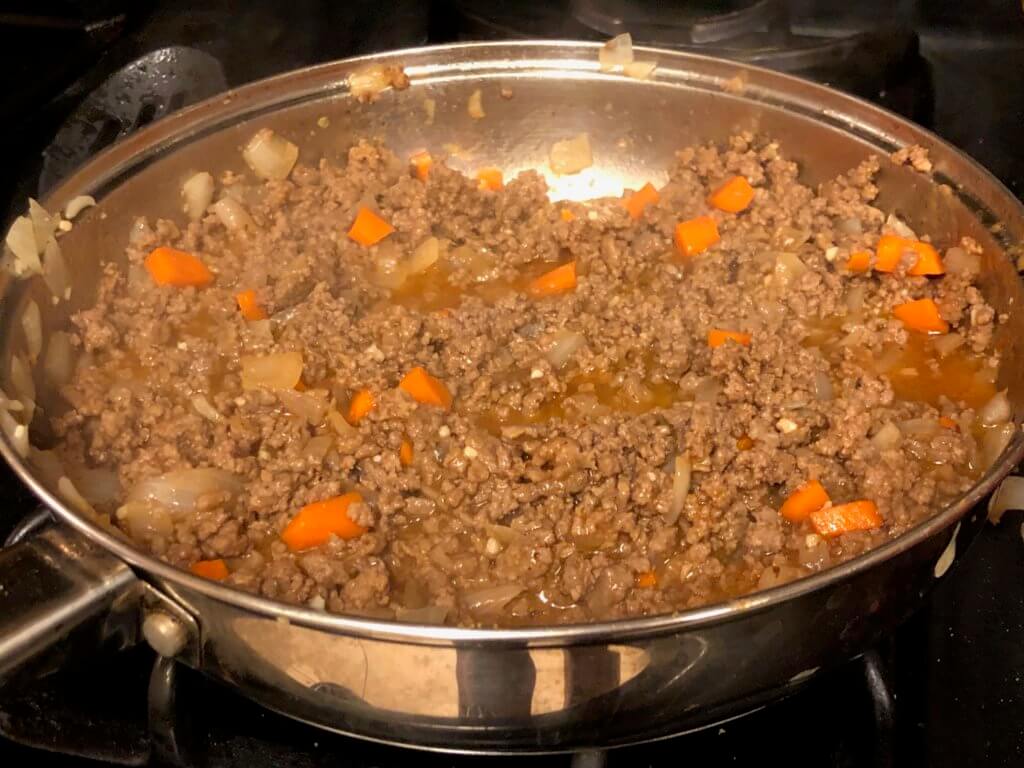 Potatoes
While I was cooking the meat I put the potatoes to boil. I let them boil until they broke apart when pierced with a fork. Once ready, I drained the water, and mashed the potatoes together with butter, milk, and salt. I added in a bit more garlic powder for good measure. I love garlic.
Assembly
Once both the meat and potatoes were prepared. I lined my baking dish with foil. I will add that I used a lasagna pan, and it was way too big. Next time I will use a smaller one. I started by adding my meat to the pan first. Followed my adding the potatoes. I used a fork to make a crosshatch design on the top. My family and I personally think this recipe also needs more potatoes.
I put that in the oven for around 45 minutes, until the potatoes were more golden and the meat was bubbling. Once done I let it cool for about 10 minutes before serving. This entire pan of Shepard's pie was finished in one night. I would consider that a win.
All in all I would definitely make this again. Instead of making one large one, I would make two much smaller ones. One with lamb, and the other with ground beef. You can check out the rest of Blogmas here.
Have you ever made Shepard's pie?

Ingredients
1 1/2 lb ground lamb or beef
2 tbsp vegetable oil
1 medium onion, finely chopped
1 glove of garlic, minced
1 tbsp flour
1 C chicken stock
1 carrot, peeled and chopped
1/2 tsp salt
3 large potatos, peeled and cut into quarters
4 tbsp butter
1/2 C milk
1 1/2 tsp salt
Instructions
Preheat oven to 350 F.
In a large pan cook meat over medium heat. Make sure there are no clumps. It should be crumbly in texture. Drain fat and place into a plate. Wipe pan with paper towel.
Add oil to pan. Once heated add onions. Cool until golden. Add garlic and sauté together. Add meat back and stir to combine.
Spinkle flour of meat mixture and stir. Slow pour chicken stock and continue to stir. Add tomato paste, carrots and salt. Raise heat, and bring to a simmer. Cook until it has thickened and carrots have become soft. About 15 minutes.
Cover potatoes with water in a pot and bring to a boil. Cook until potatoes break apart when pierced with a fork. About 25 minutes. Drain potatoes. Return to pot and add butter, milk, and salt. Mash together.
Pour meat into a 9 inch baking dish. Spoon potatoes on top. You can make peaks with back on a spot or a pattern with a fork.
Bake until pie is bubbling and potatoes turn a deeper yellow. About 45 minutes.
http://thevegasmom.com/shepards-pie/