The Easiest Way to Decorate Christmas Cookies with Kids
It has been a long year since I've last posted. I have a ton of blog posts in my drafts that I couldn't finish. It's been a hard year, but also a great year in a lot of ways. One of the best things is that we bought a house! This is our first Christmas season in our own home. I have been wanting to make this year extra special. I've been decorating the whole house, doing extra special Christmas activities, and we even got an Elf on the Shelf for the first time. His name is Jingle. One thing I have been wanting to do is decorate cookies with my kids; however, I am not artistically talented. I found the easiest way to decorate Christmas cookies, and my kids had so much fun. Honestly, they don't care how they look. They care about the fun of decorating them and how good they tasted afterwards.
I only needed three things to do this Christmas cookie decorating activity; sugar cookie dough, M&Ms, and frosting. I bought all of them at the store. I baked the cookies per the instructions on the wrapper. Did the cookies look perfect? Absolutely not. Did they taste amazing? Absolutely.
I put the frosting and m&ms in littles bowls, and gave the kids their own little plates and spatulas. Before they started I demonstrated one for them, and then I just let them go wild.
They had so much fun making their cookies. Brooklyn couldn't resist eating the frosting off her spatula. This isn't the cleanest activity, but a little mess doesn't bother me. If mess bothers you, I would cover your table. My table was covered in frosting and crumbs.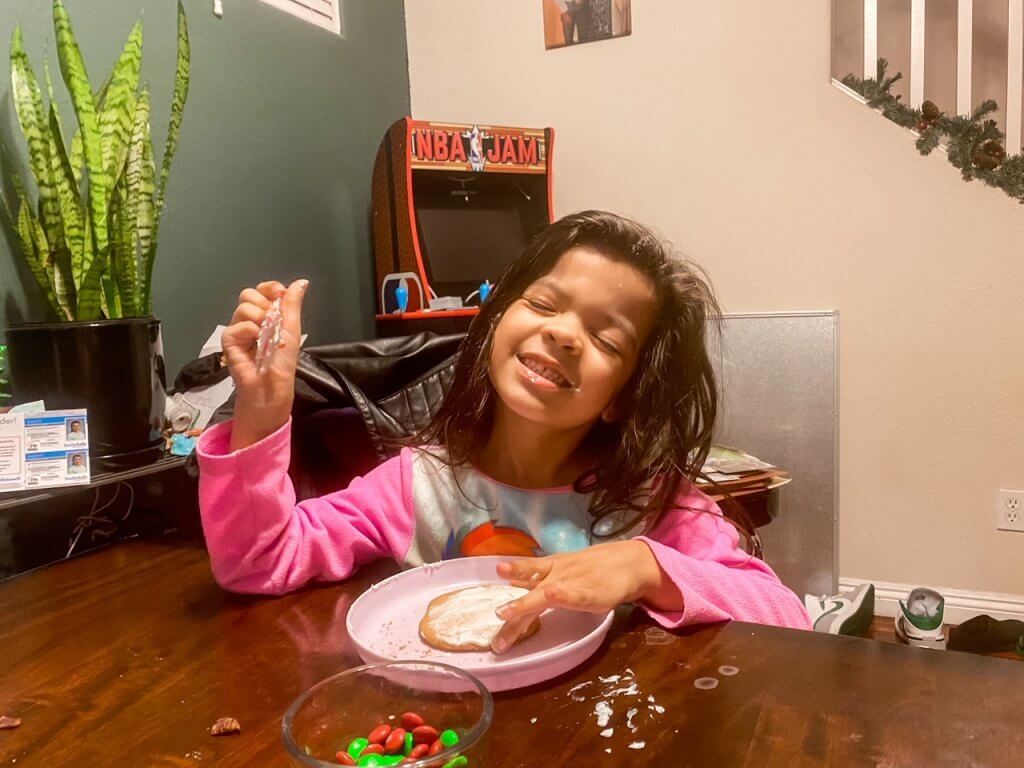 I would highly recommend doing this with your kids. Especially if you have younger kids like I do. It was fun to sit back and watch them enjoy themselves while doing something creative. The cookies look cute to me, and they taste great.
It feels great to be back to posting on here. I missed it. I'm going to be back to posting at least once a week. I hope you enjoyed the easiest way to decorate Christmas cookies.
Check out some of my past holiday posts:
White Chocolate Peppermint Bark
Peppermint Hot Cocoa Muddy Buddies
3 Cute Christmas Books for Little Kids
4 Places to See Christmas Lights in Las Vegas